Important things to know about M.E.Ch.A.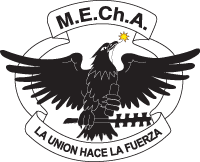 If you are a senior and you don't know about colleges or universities you my get interested in the M.E.Ch.A.. club because it can help you start to think about colleges and scholarships. If you don't know how to get scholarships the M.E.Ch.A. club can help you and explain to you how it works. If you got interested in the M.E.Ch.A. club you would have to go to Mr. Sanchez class. His room number is 709 on the second floor of the building. The club works every Friday at 2:35, if you have any other questions about The M.E.Ch.A.club you can email Mr. Sanchez his Email [email protected] and ask any questions you have about the club.
Everyone should join a club, play a sport or participate in an activity that is extracurricular.  We believe M.E.Ch.A. offers a great opportunity for students to make friends, discover themselves and have a place to belong. 
These are some reasons why everyone should try to join M.E.Ch.A. You should join M.E.Ch.A. to have a better view at colleges. To learn how to obtain scholarships. To start looking at what colleges are best for you and that makes you feel more comfortable. Every Friday people that went to college visit us and tell us about their experiences about the college that they participated in, they also tell us if it was difficult or not. They tell us some of college experiences like how it is like, how hard it is, was it stressful etc… These can help anyone have an idea about colleges and maybe you find it fun and maybe you don't.
M.E.Ch.A. has three areas of focus.
1. higher education (M.E.Ch.A. offers college support in the area of college applications, scholarships, and finding the best college for your needs).
2. culture we offer all kinds of activities related to celebrations in Spanish speaking countries to develop a sense of belonging and pride.
3.community service – we offer many opportunities to serve our community and build our resume.
M.E.C.H.A has a lot of beautiful Spanish activities, games, and parties. We get to play some Spanish activities like La Loteria, we get to make Piñatas and destroy them, we also bring spanish food when we celebrate something like when it is the last day of seniors we bring food, Piñatas, games and celebrate at the park. You can have a lot of fun in the M.E.Ch.A.club and learn new things.
Two people that I interviewed only joined to obtain the honor stole that you can get in M.E.Ch.A. They told me that you can get it just by participating in it. To obtain the honor stole, you have to participate every Friday and in all of the activities that M.E.Ch.A. offers. You have to be a Senior to obtain it. Seniors are the only ones that can get it because they will almost graduate and you can use it when you graduate.
If you are interested in joining M.E.Ch.A.you can go to Sr. Sanchez class room, his classroom number is 709. If you want to know more you can ask him and he will tell you a lot of important information. He can also tell you what M.E.Ch.A. has been working on and can get you up to speed.